Jurassic World: Dominion Dominates Fandom Wikis - The Loop
Play Sound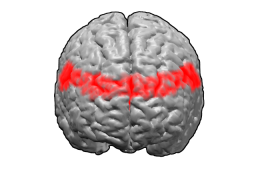 Human
Brodmann area 9, or BA9, is part of the frontal cortex in the human brain.
Guenon
The term Brodmann area 9 refers to a cytoarchitecturally defined portion of the frontal lobe of the guenon. Brodmann-1909 regarded it on the whole as topographically and cytoarchitecturally homologous to the granular frontal area 9 and frontopolar area 10 in the human. Distinctive features (Brodmann-1905): unlike Brodmann area 6-1909, area 9 has a distinct internal granular layer (IV); unlike Brodmann area 6 or Brodmann area 8-1909 its internal pyramdal layer (V) is divisible into two sublayers, an outer layer 5a of densely distributed medium sized ganglion cells that partially merges with layer IV, and an inner, clearer, cell-poor layer 5b; the pyramidal cells of sublayer 3b of the external pyramidal layer (III) are smaller and sparser in distribution; the external granular layer (II) is narrow, with small numbers of sparsely distributed granule cells.
External links
See also
Telencephalon (cerebrum, cerebral cortex, cerebral hemispheres) - edit
primary sulci/fissures: medial longitudinal, lateral, central, parietoöccipital, calcarine, cingulate
frontal lobe: precentral gyrus (primary motor cortex, 4), precentral sulcus, superior frontal gyrus (6, 8), middle frontal gyrus (46), inferior frontal gyrus (Broca's area, 44-pars opercularis, 45-pars triangularis), prefrontal cortex (orbitofrontal cortex, 9, 10, 11, 12, 47)
parietal lobe: postcentral sulcus, postcentral gyrus (1, 2, 3, 43), superior parietal lobule (5), inferior parietal lobule (39-angular gyrus, 40), precuneus (7), intraparietal sulcus
occipital lobe: primary visual cortex (17), cuneus, lingual gyrus, 18, 19 (18 and 19 span whole lobe)
temporal lobe: transverse temporal gyrus (41-42-primary auditory cortex), superior temporal gyrus (38, 22-Wernicke's area), middle temporal gyrus (21), inferior temporal gyrus (20), fusiform gyrus (36, 37)
limbic lobe/fornicate gyrus: cingulate cortex/cingulate gyrus, anterior cingulate (24, 32, 33), posterior cingulate (23, 31),
isthmus (26, 29, 30), parahippocampal gyrus (piriform cortex, 25, 27, 35), entorhinal cortex (28, 34)
subcortical/insular cortex: rhinencephalon, olfactory bulb, corpus callosum, lateral ventricles, septum pellucidum, ependyma, internal capsule, corona radiata, external capsule
hippocampal formation: dentate gyrus, hippocampus, subiculum
basal ganglia: striatum (caudate nucleus, putamen), lentiform nucleus (putamen, globus pallidus), claustrum, extreme capsule, amygdala, nucleus accumbens
Some categorizations are approximations, and some Brodmann areas span gyri.
Assessment | Biopsychology | Comparative | Cognitive | Developmental | Language | Individual differences | Personality | Philosophy | Social |
Methods | Statistics | Clinical | Educational | Industrial | Professional items | World psychology |
Biological: Behavioural genetics · Evolutionary psychology · Neuroanatomy · Neurochemistry · Neuroendocrinology · Neuroscience · Psychoneuroimmunology · Physiological Psychology · Psychopharmacology (Index, Outline)
---