{
Assessment | Biopsychology | Comparative | Cognitive | Developmental | Language | Individual differences | Personality | Philosophy | Social |
Methods | Statistics | Clinical | Educational | Industrial | Professional items | World psychology |
Biological: Behavioural genetics · Evolutionary psychology · Neuroanatomy · Neurochemistry · Neuroendocrinology · Neuroscience · Psychoneuroimmunology · Physiological Psychology · Psychopharmacology (Index, Outline)
---
Cathinone (β-ketoamphetamine) is a monoamine alkaloid found in the shrub Catha edulis (Khat). Closely related to ephedrine, cathine and other amphetamines, it is probably the main contributor to the stimulant effect of Catha edulis. Cathinone differs from many other amphetamines in that its structure is a ketone. Other amphetamines to share this structure include the antidepressant bupropion and the stimulant methcathinone, among others.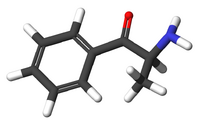 Internationally, cathinone is a Schedule I drug under the Convention on Psychotropic Substances.[1] Circa 1993, the DEA added cathinone to the Controlled Substances Act's Schedule I in order to fulfill the requirements of international law.[2]
The commerce of Khat is legal in Israel (although synthesized Cathinone is not), in Oman, in Yemen, and in the Horn of Africa.
Chemistry
Cathinone is structurally related to methcathinone, much like how amphetamine is related to methamphetamine. Cathinone differs from amphetamine by possessing a ketone oxygen atom (C=O) on the β (beta) position of the side chain. The corresponding alcohol compound cathine is a less powerful stimulant. The biophysiological conversion from cathinone to cathine is to blame for the depotentiation of Khat leaves over time; Fresh leaves have a greater ratio of cathinone to cathine than dried ones, therefore holding a more psychoactive potential.
Cathinone can be extracted from Catha edulis, or synthesized from α-bromopropiophenone (which is easily made from propiophenone).
References
External links
fr:Cathinone
pl:Katynon
sv:Katinon