Assessment | Biopsychology | Comparative | Cognitive | Developmental | Language | Individual differences | Personality | Philosophy | Social |
Methods | Statistics | Clinical | Educational | Industrial | Professional items | World psychology |
Statistics: Scientific method · Research methods · Experimental design · Undergraduate statistics courses · Statistical tests · Game theory · Decision theory
---
The check sheet is a simple document that is used for collecting data in real-time and at the location where the data is generated. The document is typically a blank form that is designed for the quick, easy, and efficient recording of the desired information, which can be either quantitative or qualitative. When the information is quantitative, the checksheet is sometimes called a tally sheet.
A defining characteristic of a checksheet is that data is recorded by making marks ("checks") on it. A typical checksheet is divided into regions, and marks made in different regions have different significance. Data is read by observing the location and number of marks on the sheet.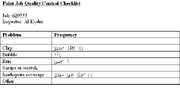 The check sheet is one of the seven basic tools of quality control, which include the histogram, Pareto chart, check sheet, control chart, cause-and-effect diagram, flowchart, and scatter diagram. See Quality Management Glossary.