Jurassic World: Dominion Dominates Fandom Wikis - The Loop
Play Sound
Assessment | Biopsychology | Comparative | Cognitive | Developmental | Language | Individual differences | Personality | Philosophy | Social |
Methods | Statistics | Clinical | Educational | Industrial | Professional items | World psychology |
Biological: Behavioural genetics · Evolutionary psychology · Neuroanatomy · Neurochemistry · Neuroendocrinology · Neuroscience · Psychoneuroimmunology · Physiological Psychology · Psychopharmacology (Index, Outline)
---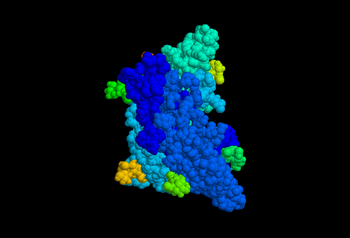 Follicle stimulating hormone (FSH) is a hormone synthesised and secreted by gonadotropes in the anterior pituitary gland. In the ovary FSH stimulates the growth of immature Graafian follicles to maturation. As the follicle grows it releases inhibin, which shuts off the FSH production. In men, FSH enhances the production of androgen-binding protein by the Sertoli cells of the testes and is critical for spermatogenesis.
Structure
FSH is a glycoprotein. Each monomeric unit is a protein molecule with a sugar attached to it; two of these make the full, functional protein. Its structure is similar to LH, TSH, and hCG. The protein dimer contains 2 polypeptide units, labelled alpha and beta subunits. The alpha subunits of LH, FSH, TSH, and hCG are identical, and contain 92 amino acids. The beta subunits vary. FSH has a beta subunit of 118 amino acids that confers its specific biologic action and is responsible for interaction with the FSH-receptor.The sugar part of the hormone is composed of fructose, galactose, mannose, galactosamine, glucosamine, and sialic acid, the latter being critical for its biologic half-life. The half-life of FSH is 3-4 hours.
Genes
The gene for the alpha subunit is located on chromosome 6p21.1-23. It is expressed in different cell types. The gene for the FSH beta subunit is located on chromosome 11p13 and is expressed in gonadotropes of the pituitary cells, controlled by GnRH, inhibited by inhibin, and enhanced by activin.
Activity
In both males and females, FSH stimulates the maturation of germ cells. In females, FSH initiates follicular growth, and participates in stimulating ovulation. With the concomitant rise in inhibin B, FSH levels then decline. This seems to be critical in selecting only the most advanced follicle to proceed to ovulation.
FSH levels are normally low during childhood and, in women, high after menopause.
Deficient FSH activity
Gonadotropin deficiency

Gonadal suppression therapy

GnRH antagonist

GnRH agonist

(downregulation)