Assessment | Biopsychology | Comparative | Cognitive | Developmental | Language | Individual differences | Personality | Philosophy | Social |
Methods | Statistics | Clinical | Educational | Industrial | Professional items | World psychology |
Biological: Behavioural genetics · Evolutionary psychology · Neuroanatomy · Neurochemistry · Neuroendocrinology · Neuroscience · Psychoneuroimmunology · Physiological Psychology · Psychopharmacology (Index, Outline)
---
For list of ganglia see: Ganglia (disambiguation)
In anatomy, a ganglion (plural ganglia) is a tissue mass.[1]
Cells found in a ganglion are called ganglion cells, though this term is also sometimes used to refer specifically to Retinal ganglion cells.
Neurology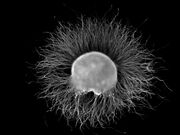 In neurological contexts, ganglia are composed mainly of somata and dendritic structures that often interconnect with other ganglia to form a complex system of ganglia known as a plexus. Ganglia provide relay points and intermediary connections between different neurological structures in the body, such as the peripheral and central nervous systems.
There are two major groups of ganglia:
In the autonomic nervous system, fibers from the central nervous system to the ganglia are known as preganglionic fibers, while those from the ganglia to the effector organ are called postganglionic fibers.
Basal ganglia
The term "ganglion" usually refers to the peripheral nervous system. [2]
However, in the brain (part of the central nervous system), the "basal ganglia" is a group of nuclei interconnected with the cerebral cortex, thalamus and brainstem, associated with a variety of functions: motor control, cognition, emotions and learning.
Partly due to this ambiguity, the Terminologia Anatomica recommends using the term "basal nuclei" instead of "basal ganglia".
See also
References
[[[CAtegory:Ganglia]]