Assessment | Biopsychology | Comparative | Cognitive | Developmental | Language | Individual differences | Personality | Philosophy | Social |
Methods | Statistics | Clinical | Educational | Industrial | Professional items | World psychology |
Biological: Behavioural genetics · Evolutionary psychology · Neuroanatomy · Neurochemistry · Neuroendocrinology · Neuroscience · Psychoneuroimmunology · Physiological Psychology · Psychopharmacology (Index, Outline)
---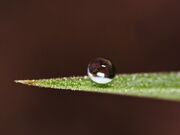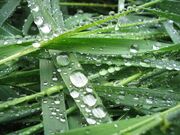 Hydrophobe (from the Greek (hydros) "water" and (phobos) "fear") in chemistry refers to the physical property of a molecule that is repelled from a mass of water.
Hydrophobic molecules tend to be nonpolar and thus prefer other neutral molecules and nonpolar solvents. Hydrophobic molecules in water often cluster together. Water on hydrophobic surfaces will exhibit a high contact angle.
Chemical background
According to thermodynamics, matter seeks to be in a low-energy state, and bonding reduces chemical energy. Water is electrically polarized, and is able to form hydrogen bonds internally, which gives it many of its unique physical properties. But, since hydrophobes are not electrically polarized, and because they are unable to form hydrogen bonds, water repels hydrophobes, in favour of bonding with itself. It is this effect that causes the hydrophobic interaction — which in itself is incorrectly named as the energetic force comes from the hydrophilic molecules.[1] Thus the two immiscible phases (hydrophilic vs. hydrophobic) will change so that their corresponding interfacial area will be minimal. This effect can be visualized in the phenomenon called phase separation.
See also
Hydrophile

Amphiphiles

Wetting
References
External links