Jurassic World: Dominion Dominates Fandom Wikis - The Loop
Play Sound
Assessment | Biopsychology | Comparative | Cognitive | Developmental | Language | Individual differences | Personality | Philosophy | Social |
Methods | Statistics | Clinical | Educational | Industrial | Professional items | World psychology |
Biological: Behavioural genetics · Evolutionary psychology · Neuroanatomy · Neurochemistry · Neuroendocrinology · Neuroscience · Psychoneuroimmunology · Physiological Psychology · Psychopharmacology (Index, Outline)
---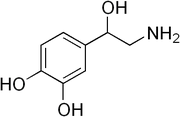 Norepinephrine reuptake inhibitors (NRIs), also known as noradrenaline reuptake inhibitors (NARIs), are compounds that elevate the extracellular level of the neurotransmitter norepinephrine in the CNS by inhibiting its reuptake from the synaptic cleft into the presynaptic neuronal terminal via the norepinephrine transporter. Virtually, they do not act at other monoamine transporters.
List of NRIs
Strattera® is available in the United States and is indicated by the Food and Drug Administration (FDA) for the treatment of ADD and ADHD, off-label uses include the treatment of depression, and anxiety.
Reboxetine, unavailable in the United States and Canada, has been found to be effective at combating depression.
Antidepressants (ATC N06A) edit
Monoamine oxidase inhibitors (MAOI)
Harmaline, Iproclozide, Iproniazid, Isocarboxazid, Nialamide, Phenelzine, Selegiline, Toloxatone, Tranylcypromine
Reversible inhibitor of monoamine oxidase A (RIMA)
Brofaromine, Moclobemide
Dopamine reuptake inhibitor (DARI)
Amineptine, Phenmetrazine, Vanoxerine, Modafinil
Norepinephrine-dopamine reuptake inhibitors
Bupropion
Norepinephrine reuptake inhibitor (NRI) or (NARI)
Atomoxetine, Maprotiline, Reboxetine, Viloxazine
Serotonin-norepinephrine reuptake inhibitor (SNRI)
Duloxetine, Milnacipran, Venlafaxine
Selective serotonin reuptake inhibitor (SSRI)
Alaproclate, Etoperidone, Citalopram, Escitalopram, Fluoxetine, Fluvoxamine, Paroxetine, Sertraline, Zimelidine
Selective serotonin reuptake enhancer (SSRE)
Tianeptine
Tricyclic antidepressants (TCA)
Amitriptyline, Amoxapine, Butriptyline, Clomipramine, Desipramine, Dibenzepin, Dothiepin, Doxepin, Imipramine, Iprindole, Lofepramine, Melitracen, Nortriptyline, Opipramol, Protriptyline, Trimipramine
Tetracyclic antidepressants
Maprotiline, Mianserin, Nefazodone, Trazodone
Noradrenergic and specific serotonergic antidepressant (NaSSA) Mirtazapine
de:Selektiver Noradrenalin-Wiederaufnahmehemmer
he:SNRI