We're Getting Mutants in the MCU - The Loop
Play Sound
Tangier disease is a rare inherited disorder characterized by a severe reduction in the amount of high density lipoprotein (HDL), often referred to as "good cholesterol," in the bloodstream. High-density lipoproteins are created when a protein in the bloodstream, apolipoprotein A1 (apoA1), combines with cholesterol and phospholipids. The cholesterol and phospholipids used to form HDL originate from inside cells but is transported out of the cell into the blood via the ABCA1 transporter. People with Tangier disease have defective ABCA1 transporters resulting in a greatly reduced ability to transport cholesterol out of their cells, which leads to an accumulation of cholesterol in many body tissues. Reduced blood levels of high-density lipoproteins is sometimes described as hypolipoproteinemia.
People affected by this condition also have slightly elevated amounts of fat in the blood (mild hypertriglyceridemia) and disturbances in nerve function (neuropathy). The tonsils are visibly affected by this disorder; they frequently appear orange or yellow and are extremely enlarged. Affected people often develop premature atherosclerosis, which is characterized by fatty deposits and scar-like tissue lining the arteries. Other signs of this condition may include an enlarged spleen (splenomegaly), an enlarged liver (hepatomegaly), clouding of the cornea, and early-onset cardiovascular disease.
Tangier disease is a rare disorder with approximately 50 cases identified worldwide. This disorder was originally discovered on Tangier Island off the coast of Virginia, but has now been identified in people from many different countries.
Genetics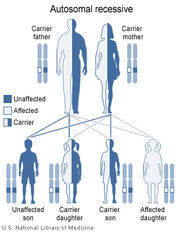 Mutations to chromosome 9q31 lead to a defective ABCA1 transporter. These mutations prevent the ABCA1 protein from effectively transporting cholesterol and phospholipids out of cells for pickup by ApoA1 in the bloodstream. This inability to transport cholesterol out of cells leads to a deficiency of high-density lipoproteins in the circulation, which is a risk factor for coronary artery disease. Additionally, the buildup of cholesterol in cells can be toxic, causing cell death or impaired function. These combined factors lead to the signs and symptoms of Tangier disease.
This condition is inherited in an autosomal recessive pattern, which means two copies of the gene in each cell are altered. Most often, the parents of an individual with an autosomal recessive disorder are carriers of one copy of the altered gene but do not show signs and symptoms of the disorder.
References
amino-acids Phenylketonuria - Alkaptonuria - Ochronosis - Tyrosinemia - Maple syrup urine disease - Propionic acidemia - Methylmalonic acidemia - Isovaleric acidemia - Primary carnitine deficiency - Cystinuria - Cystinosis - Hartnup disease - Homocystinuria - Citrullinemia - Hyperammonemia - Glutaric acidemia type 1
carbohydrates Lactose intolerance - Glycogen storage disease (type I, type II, type III, type IV, type V), Fructose intolerance, Galactosemia
Lipid storage disorders Gangliosidosis - GM2 gangliosidoses (Sandhoff disease, Tay-Sachs disease) - GM1 gangliosidoses - Mucolipidosis type IV - Gaucher's disease - Niemann-Pick disease - Farber disease - Fabry's disease - Metachromatic leukodystrophy - Krabbe disease - Neuronal ceroid lipofuscinosis - Batten disease - Cerebrotendineous xanthomatosis - Wolman disease - Cholesteryl ester storage disease
List of fatty acid metabolism disorders - Hyperlipidemia - Hypercholesterolemia - Familial hypercholesterolemia - Xanthoma - Combined hyperlipidemia - Lecithin cholesterol acyltransferase deficiency - Tangier disease - Abetalipoproteinemia
mineral metabolism Disorders of calcium metabolism - Hypophosphatemia - Hypophosphatasia - Wilson's disease - Menkes disease - Hypermagnesemia - Hypomagnesemia - Hypercalcaemia - Hypocalcaemia
fluid, electrolyte and acid-base balance Electrolyte disturbance - Hypernatremia - Hyponatremia - Respiratory acidosis - Metabolic acidosis - Lactic acidosis - Hypervolemia - Hypokalemia - Hyperkalemia - Mixed disorder of acid-base balance - Hyperchloremia - Hypochloremia - Dehydration
porphyrin and bilirubin Acatalasia - Gilbert's syndrome - Crigler-Najjar syndrome - Dubin-Johnson syndrome - Rotor syndrome - Porphyria (Acute intermittent porphyria, Gunther's disease, Porphyria cutanea tarda, Erythropoietic protoporphyria, Hepatoerythropoietic porphyria, Hereditary coproporphyria, Variegate porphyria)
glycosaminoglycan Mucopolysaccharidosis - Hurler syndrome - Hunter syndrome - Sanfilippo syndrome - Morquio syndrome
glycoprotein I-cell disease - Pseudo-Hurler polydystrophy - Aspartylglucosaminuria - Fucosidosis - Alpha-mannosidosis - Sialidosis
other Alpha 1-antitrypsin deficiency - Cystic fibrosis - Familial Mediterranean fever - Lesch-Nyhan syndrome