Assessment | Biopsychology | Comparative | Cognitive | Developmental | Language | Individual differences | Personality | Philosophy | Social |
Methods | Statistics | Clinical | Educational | Industrial | Professional items | World psychology |
Biological: Behavioural genetics · Evolutionary psychology · Neuroanatomy · Neurochemistry · Neuroendocrinology · Neuroscience · Psychoneuroimmunology · Physiological Psychology · Psychopharmacology (Index, Outline)
---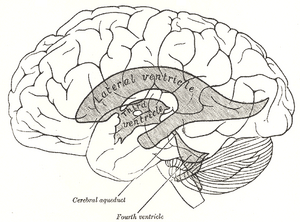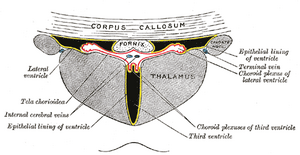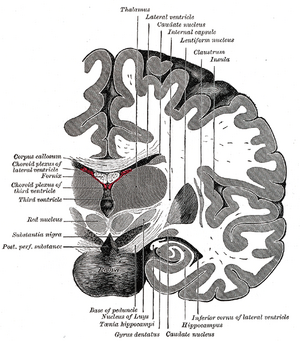 The third ventricle is one of the four connected fluid-filled cavities within the human brain. It is a median cleft between the two thalami, and is filled with cerebrospinal fluid (CSF).
It is in the midline, between the left and right lateral ventricles. It communicates with the lateral ventricles anteriorly (in front), and with the mesencephalic duct (aqueduct of Sylvius) posteriorly (in back).
Developmentally it represents the cavity of the diencephalon, though they are in front of the interventricular foramen which is derived from the median part of the telencephalon. The third ventricle is bounded by the thalamus and hypothalamus on both the left and right sides. The lamina terminalis forms the anterior wall of the third ventricle.
There are two protrusions on the front of the third ventricle, the supra-optic recess (above the optic chiasma), and the infundibular recess (above the pituitary stalk). In casts of the ventricular system, a small 'hole' may be seen in the body of the third ventricle. This is formed where the two thalami are joined together at the interthalamic adhesion (not seen in all people).
The four fluid-filled cavities in the brain, collectively the ventricular system, are the left and right lateral ventricles, the third ventricle, and the fourth ventricle.
Telencephalon (cerebrum, cerebral cortex, cerebral hemispheres) - edit
primary sulci/fissures: medial longitudinal, lateral, central, parietoöccipital, calcarine, cingulate
frontal lobe: precentral gyrus (primary motor cortex, 4), precentral sulcus, superior frontal gyrus (6, 8), middle frontal gyrus (46), inferior frontal gyrus (Broca's area, 44-pars opercularis, 45-pars triangularis), prefrontal cortex (orbitofrontal cortex, 9, 10, 11, 12, 47)
parietal lobe: postcentral sulcus, postcentral gyrus (1, 2, 3, 43), superior parietal lobule (5), inferior parietal lobule (39-angular gyrus, 40), precuneus (7), intraparietal sulcus
occipital lobe: primary visual cortex (17), cuneus, lingual gyrus, 18, 19 (18 and 19 span whole lobe)
temporal lobe: transverse temporal gyrus (41-42-primary auditory cortex), superior temporal gyrus (38, 22-Wernicke's area), middle temporal gyrus (21), inferior temporal gyrus (20), fusiform gyrus (36, 37)
limbic lobe/fornicate gyrus: cingulate cortex/cingulate gyrus, anterior cingulate (24, 32, 33), posterior cingulate (23, 31),
isthmus (26, 29, 30), parahippocampal gyrus (piriform cortex, 25, 27, 35), entorhinal cortex (28, 34)
subcortical/insular cortex: rhinencephalon, olfactory bulb, corpus callosum, lateral ventricles, septum pellucidum, ependyma, internal capsule, corona radiata, external capsule
hippocampal formation: dentate gyrus, hippocampus, subiculum
basal ganglia: striatum (caudate nucleus, putamen), lentiform nucleus (putamen, globus pallidus), claustrum, extreme capsule, amygdala, nucleus accumbens
Some categorizations are approximations, and some Brodmann areas span gyri.